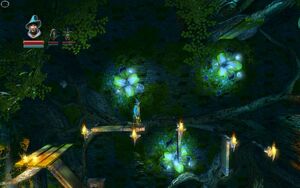 Not to be confused with the Hinged Platform.
The Hinged Board is an obstacle that is sometimes encountered in the game.
The Hinged Board is a short wooden board that is free at one end and connected to a metal hinge at the other end. It can freely swing from the hinge in an arc. It is usually part of a puzzle that requires the heroes to get to something or cross something. It can be encountered as a single board or multiple boards that have to be connected.
Knight: he can hit the Hinged Board with his Sword or his Storm Hammer to move it but is not very good at this.
Thief: she can use her Bow to move the Hinged Board and is the best hero to move boards when in a hurry, especially in the Tower of Sarek level.
Wizard: he can move the Hinged Board using his levitation Ability.
For a list of other types of obstacle see: Hazards
Community content is available under
CC-BY-SA
unless otherwise noted.